Products & Services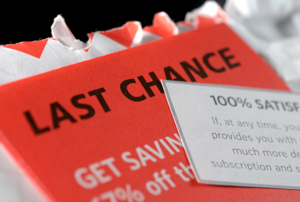 We ARE in the printing business. When it comes to business communications services, Hurricane has it covered. We can provide virtually any product or service imaginable to communicate with your clients, employees, stockholders, or vendors.
Do you need bulk mailing? Hurricane is the largest bulk mailing facility in West Texas mailing millions of pieces every year.
If it's fast turn-around that you are looking for, that is only the beginning. To learn more about the many products and services we offer, please contact one of our representatives.
Products
11x17 with 8.5x11 loose in the middle (6pg) We are the specialists in the 6pg newsletter field having done many of these.

4pg or 8pg Newsletters 4 color process
Single or two-color

Books and Booklets Full color/bleeds, folding, collating and stitching included.
4, 8, 12, 16+ page booklets.
Number of pages must be divisible by 4.

Letterheads and Envelopes We can produce single to full color letterhead and envelopes. We are also the industry leader in 4/4 full bleed envelopes with matching brochures or letterhead.

Miscellaneous Items: Calendars, inserts, door hangers, table tents, CD and DVD inserts, Rack Cards (imagine yours in HD next to all the others) and custom printing also available.

Postcards 4x6, 6x9 to 11x6 massive cards that won't get lost in the shuffle of envelopes on your customers desk.
Full-service bulk-mailing available to anywhere in the United States.
Thousands and thousands mailed from our site everyday.

Posters 11x17, 18x24, 19x25,

Presentation Folders Standard 9x12
1 or 2, 4-inch pockets optional
Business Card holder on either pocket or both
Services
"Photographic High Definition Printing" The closest to continuous tone in printing technology today. The photographic high definition process offers the advantages of more detail, less ink on the sheet, no moiré pattern, increased tonal values, crisper fine lines and small type and cleaner reverses. To put it simply the best printing available in the industry.

Aqueous Coating Aqueous coating is a water based finish used in print jobs to add brilliance and durability to a printed piece. Aqueous coating also shortens the drying time of a printed piece considerably.

Coil Binding

Cutting Our bindery professionals are experts at operating our state-of-the-art cutting machines. We frequently save our clients money by printing or duplicating multi-up on a page and cutting them down.

Direct Mail Marketing We can design and create effective, stunning collateral pieces that will reach your target audience at their businesses or homes.

Folding We can hand- or machine-fold your documents in a number of formats, including double parallel, tri- and z-folds, and engineering.

Offset Printing We can print in one-, two-, three-, and full-color on a variety of paper sizes and stocks, including cardstock and all sizes of envelopes. We can print purchase orders, invoices, estimate sheets, work orders, carbonless multi-part forms, business cards, letterhead, newsletters, brochures, posters, and anything else you may need. Just bring us your ideas, originals, or camera-ready art, and we can print your document.

Perforation Perforation can be used to produce removable reply cards, coupons, and reminder pieces. We can either hand- or machine-score to meet the demands of your job.

Saddle Stitching

Scoring When folding is required on heavier stocks, scoring ensures that the fold will be clean and not damage the printed image. We can either hand- or machine-score to meet the demands of your job.

Shrinkwrapping We can shrinkwrap all types and sizes of documents to help protect them from the elements. We can also laminate your individual documents for added protection.

Variable Data Mailings Using your Excel Spreadsheet mailing list, we can produce variable-data mailings from personalized letters to customized invoices. We can also provide for you a customized mailing list to a specific target audience that will meet your mailing needs.

Wire Binding